Relationships blossom from recurring connection, and so too does our connection to individual animals.
It's immensely powerful to see an orca in person, wild and free. That experience becomes almost transcendental when you can identify the individual.
FLASHBACK: Encounter Dates – January 1, 2015; November 25, 2016; September 15, 2017; July 24, 2018
This week, the T137 and T46 transient (Bigg's) orca families visited Anderson Island. I wasn't there to enjoy it, but it made me think it was time for a little flashback of my love for this family.
Making of a Wildlife Photographer
It might look like I'm just a bird nerd, but whales were the impetus for me to select a super-zoom telephoto lens back in 2014. I had lived on the island for seven years before I realized that we pretty regularly had orcas and whales in the waters around our island.
While I had assumed the Big Whale Action was north of us in the San Juans, it turns out that we get orcas, humpbacks, grays, and even the occasional fin whale – the second largest whale in the ocean after the blue. Marine mammals became my gateway into the natural world.
First Encounter
December 7, 2014 was the first time I was able to capture orcas in photographs. It was magical, and while I never identified the individuals, the experience left me looking for my next fix.
Which begs the question, how DOES one know where they are? It turns out that there is an organization in the Seattle area (Whidbey Island, to be exact) called the Orca Network, who offer volunteers and everyday whale lovers a platform to crowd-source their sightings.
The Orca Network has a very active Facebook Feed, a robust website where you can see reports and add your own if you aren't on FB, and a weekly sightings newsletter you can sign up for.
Once I knew they existed, I added their page to my Facebook feed and prioritized it to show first, and then I started regularly paying attention to what activity was in my area. I also went to a training session for volunteers which got me on a text-alert system, learned more about how to offer good sighting reports, and connected with several other people in my area who avidly reported whales as they were heading my way, either from the north or the south.
It wasn't long before my marine mammal networking started to pay off in spades.
Happy New Year!
I met the T137 family on January 1, 2015.
It was a crisp, cold day, and there had been sightings of 8-10 whales making their way toward our island. The Orca Network had already ID'd them as the T137s, traveling with two other pods, the T036s and T036Bs, and the pods had young ones.
We headed down to a marina on the east side of the island. I had no idea what a special experience this was going to be, but in retrospect, it has spoiled me for orca encounters. See, most of the time, you catch orcas traveling from Point A to Point B, which is majestic but a predictable experience of surface-under-surface-under (with a side of "where the %&#@ did they go?"). If you are really lucky, you get to see them stalled out, on a kill or just wiling away the day with some recreational activities, as families are wont to do.
On this day, we were blessed – they came very close to the shore and were very active. The adults were breeching and tail lobbing. The little ones were chasing and bapping the water fowl. Every time I got my camera focused on one group, there would be an epic *SPLASH* from somewhere else.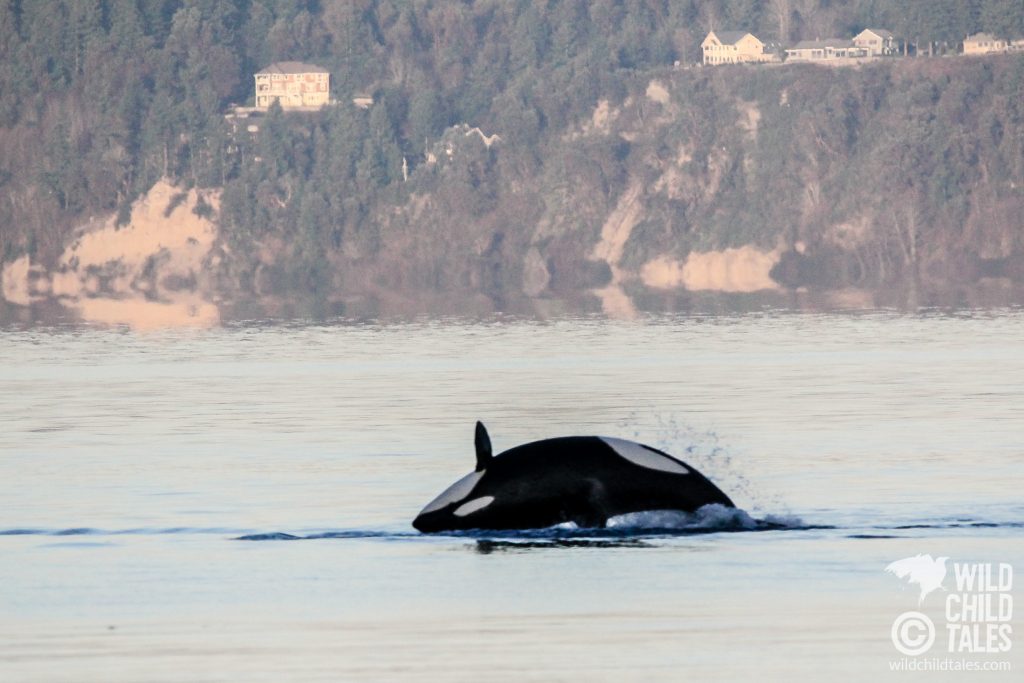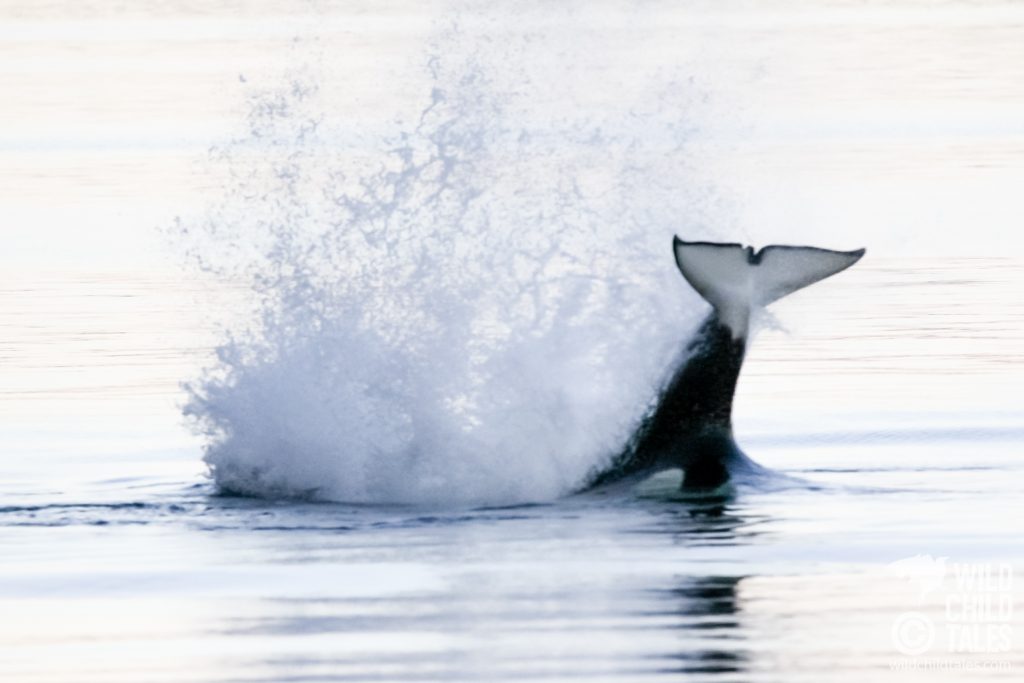 During the 30 minutes that this amazing spectacle unfolded, many island residents who saw my orca announcement on our Facebook group had the chance to get to the water and enjoy this delightful encounter. One of my goals in tracking the movement of marine mammals past our island is to share this experience with others. I think it's a life-altering experience that instantly connects people to the power of the natural world they live in, and suddenly – for each person who experiences an orca connection – our waters are now home to sentient, real beings, not just an empty body of water. I want to share that as widely as I possibly can, and I think many on the island now just know me as "that orca / bird girl," which is charming and not inaccurate.
Meet the Family
It wasn't until after I had processed my photos and posted them out to the Orca Network that I got help ID'ing the orcas we saw. Our encounter was so close and the photos so clear that Orca Network volunteers were able to ID individuals in many of the photos, and it opened my eyes to the idea that this was possible.
(T137B is listed below…she evaded me on this encounter!)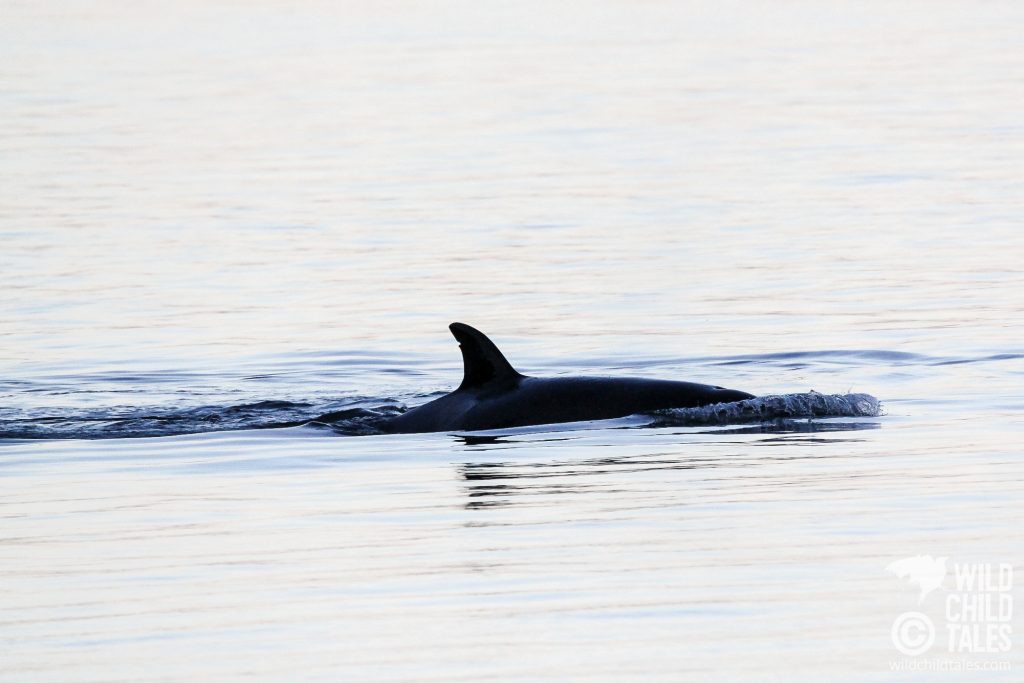 Relationship Building
From this moment on, I was enthralled by the game of trying to ID the orca I was seeing. Sometimes it's just a fail, with photos too distant and blurry to figure it out, sometimes because of Orca Network sightings, I would have a sense of who was in the area and able to match that to who I was seeing.
Out of the 16 times I have encountered and photographed orca, 4 of them included the T137s and it turns out that I've seen them once a year since my first encounter with them in 2015…talk about an ongoing relationship!
I've watched the young ones get bigger, T137A blossom into his full fighting size, and their awesome mama shepherd them safely through all the years. Each time I pour over photos and recognize someone, my heart leaps and I feel like I am seeing an old friend.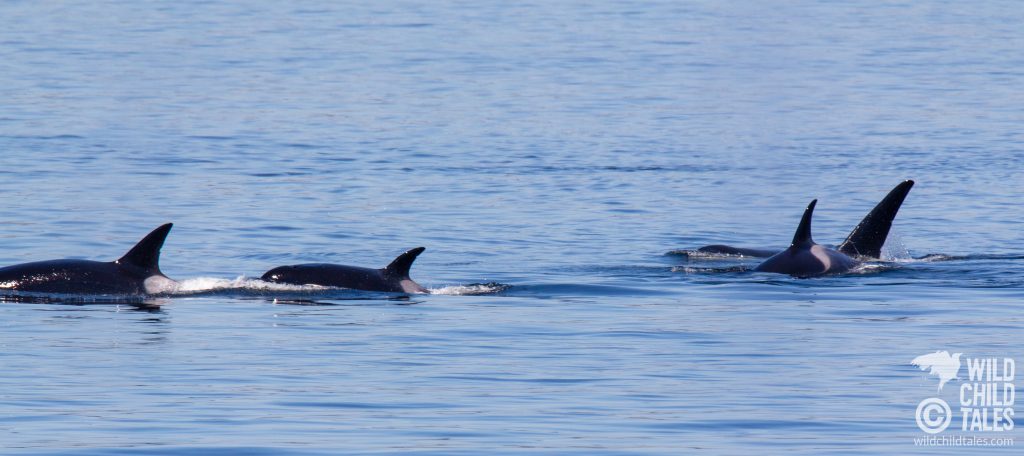 This Week's Visit
Even though I wasn't there, I saw the Orca Network alert that orca were headed south of the Narrows Bridge and alerted the island via our Facebook group. I found it charming that they were traveling with the T46s, since that was the pod that I saw them with last, in July 2018. Islander Bob Lyden thanked me for the heads-up, sharing the video he caught of their passing:
Southern Resident vs. Transient (or Bigg's) Orca
You might ask, "Belen, are these the orca that are so famously endangered in the Puget Sound?" Nope, they are another species that split about 12,000 years ago. The Southern Resident orcas are near and dear to those that live up here, and because they only eat salmon, their population is in serious jeopardy.
I have only had the pleasure of seeing Southern Resident orca once last year, and it was an overwhelming joy. While I hear old-time islanders talk about how the Southern Residents used to come down our way in the past, I haven't heard of them getting any further south than Carr Inlet, and usually they just lap Vashon and stay north of the Narrows Bridge. Rest assured, I'm sure I'll write other posts about them as time goes on.
The orca we get around Anderson Island these days are the transient or Bigg's orcas, who hunt marine mammals. The Smithsonian ran a great article a couple of years ago explaining the difference. Wikipedia also has a nice summary, for those that want a short read.
Inquiring Minds
You might be wondering what level of Crazy Orca Fan you have to be to ID these individuals. I'd be lying if I said it was easy, but it's really a pattern recognition game.
Usually an ID is made in transient orcas from nicks or shapes of their dorsals, and some are very noticeable, especially the big males. It also helps to know that they travel in their small matrilineal pods, with sons usually staying with mom, and daughters staying until they form their own families, and then still sometimes traveling with their larger family unit or other friends.
When it comes to IDing, it helps A LOT to have photos to reference, especially in a sequence so you get context of who was where. Oftentimes, I get a hint from the Orca Network when they already have a pod identified, but I've surprised myself in recent years by recognizing some individuals on my own. Practice makes perfect 🙂
One helpful resource is seeing the Orca Network sighting newsletters and noticing photos where ID's are assigned. There are whale watching naturalists and other Very Serious Orca Watchers who are badass at IDs, and soaking up their knowledge is always helpful.
An invaluable resource is the ID Guide published by the Center for Whale Research. As a member ($40/yr), you can download the resident and transient guides for free. It's a great cause to support, and just the guide alone makes that donation worthwhile to me.