Nest Watch in New Orleans, LA
Active babies make for a crowded house, with squirmy piles of crow-toddlers moving around, stretching, and preening. Meanwhile, everyone wants handouts from mom and dad.
Day 5 – Distractions Abound
I didn't manage to capture anything unique about Day 5 of Nest Watch, in part because we took a day trip to Jean Lafitte National Park's Barataria wetland trails and my day was filled with all sorts of other wildlife adventures (coming soon!).
However, we seem to be well past resistance to our peanut offerings and have moved right into a regular offering/gathering cycle, often with them watching me restock the peanuts from nearby trees.
Day 6 – Crowded House
The feature image at the top shows the best part of my nest watching from Day 6…the babies are getting really active, and a few have enough strength to really pull their bodies up out of the nest and show me their lovely wing development.
It's a sober reminder of how much I don't know about crow physiology, but I think those blue shafts are the primary feathers coming in. If any of you know, please comment!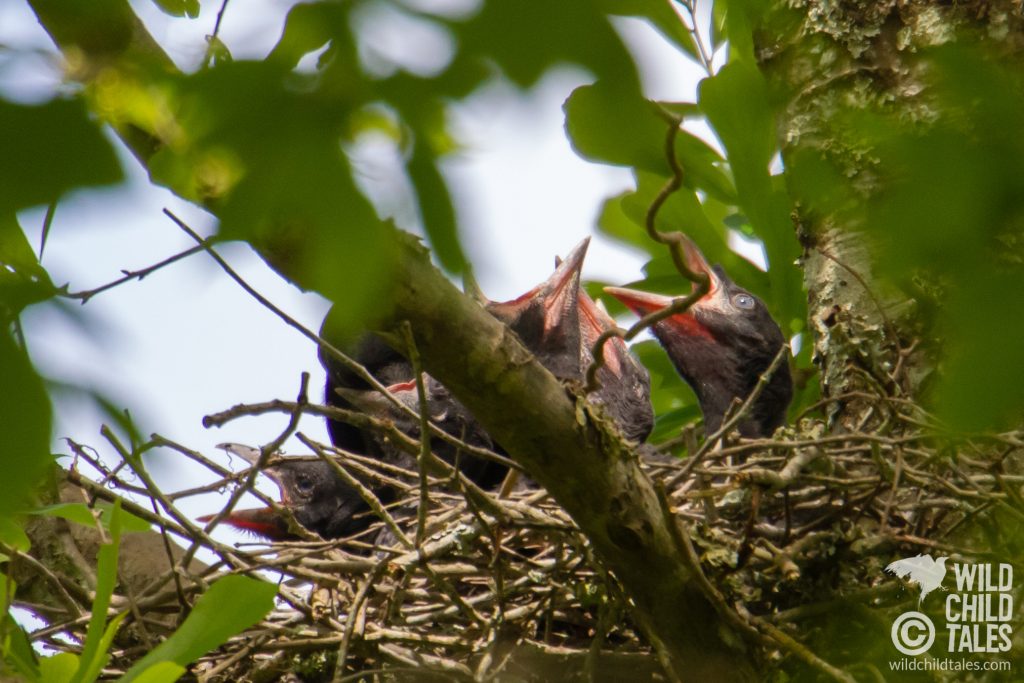 Self-Cleaning Module Installed!
In addition to getting some great wing views, I was excited to observe for the first time that some of the babies were preening. It has to be a great day as a parent when the kiddos begin Auto-Clean mode!
Day 6's video starts with a baby preening, then shows full-body motion around the nest, then Mama sitting with them awaiting another meal delivery, and finally some of the between-feeding movement and activity.
Pesky Grown Children
Another thing happened a lot today – there were other crows in the area, which the nest-tending adults repeatedly shooed away. However, instead of the STRANGERDANGER sharp alert calls they use for everyone else, these vocalizations just sounded annoyed.
Their calls were much more guttural and quiet, with a tone of "seriously, didn't I tell you NO?", with responses that sounded like begging calls and wheedling.
It seemed very much to me like I was seeing the rest of last year's young, hoping mom and dad might still cook them dinner or let them raid the fridge. Each time it played out, I had to smile at how families aren't so different across species.