Nest Watch in New Orleans, LA
Nest Watch ends with our little ones active and alert, looking like legit wee crows, along with some insights into hydration, housekeeping, and the reality of crow parenting.
Hello World
The featured photo for Day 7 is pretty much our status quo now…these little ones are interested in everything, spending much of their day looking around at the world and wondering what else is out there.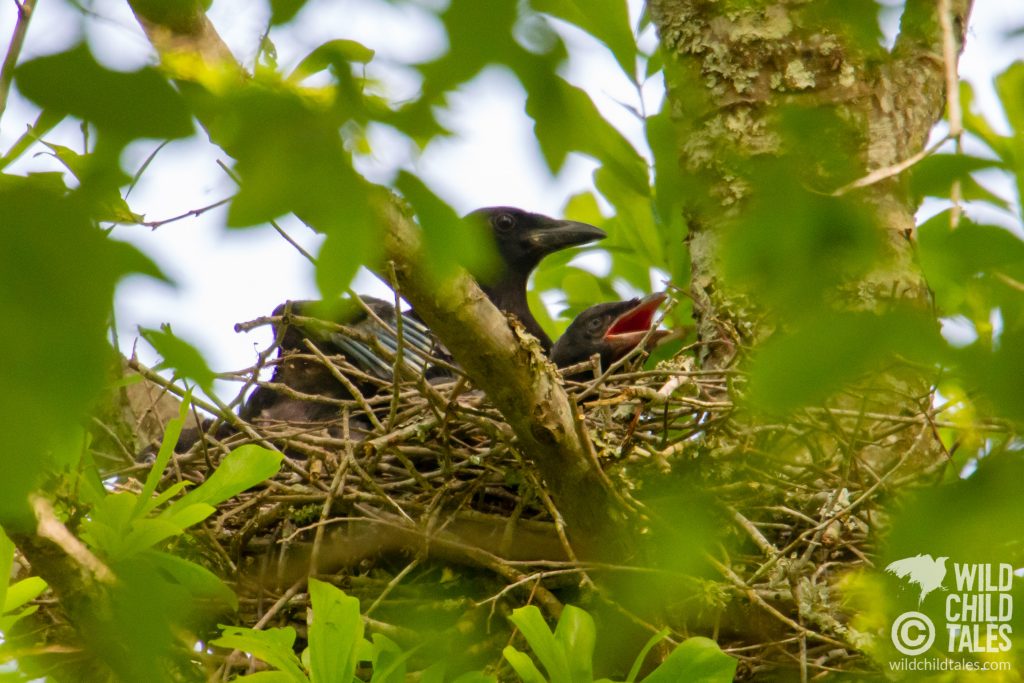 Beetles, with a Side of Mom Slobber
One of the interesting things that I read on the BirdsNA.org site was how crow parents add extra hydration to the meals they offer the young with their saliva, or by dipping food in water prior to feeding them. I was excited when I processed photos from Day 7 and realized that I actually had a nice example of hydration in action.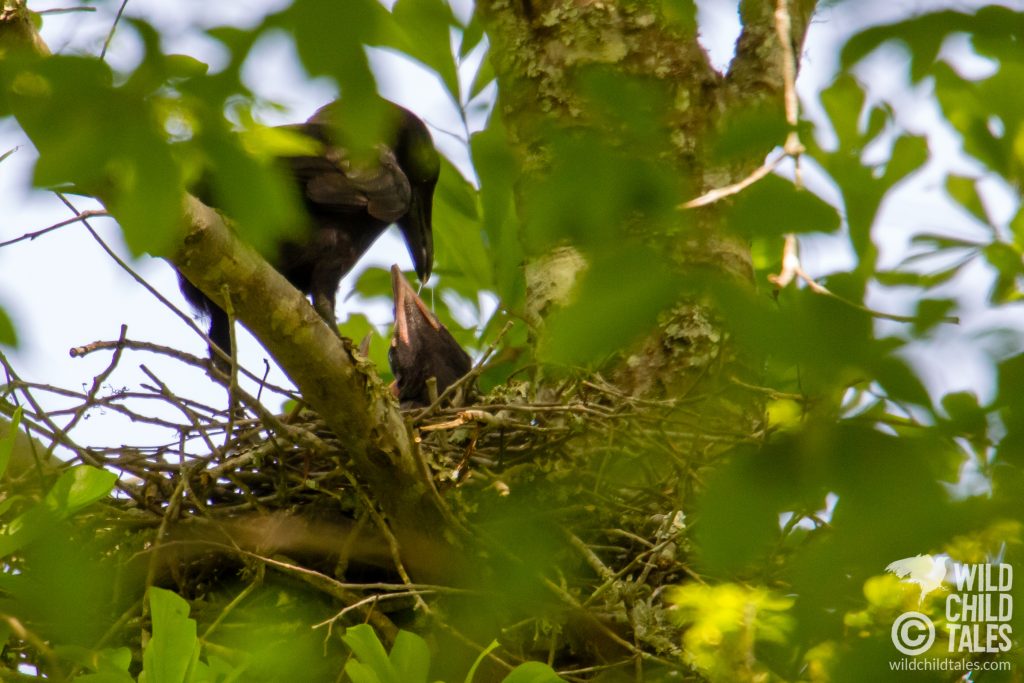 What do baby crows eat? According to Birds of North America:
Beetles 23.9%, grasshoppers 14.6%, bugs 2.6%, caterpillars 5.3%, miscellaneous insects 1.9%, spiders and myriapods 9.7%, crayfish 1.8%, fishes and mollusks 0.7%, amphibians and reptiles 7.0%, wild birds and eggs 1.6%, poultry and eggs 1.6%, rodents 6.2%, other mammals 2.6%, carrion 3.9%, corn 11.9%, and miscellaneous vegetable matter 4.6% (n = 776 stomachs of nestlings from throughout species' range; Kalmbach 1939b).
Baby Antics
Day 7's video makes my heart happy. We start with feeding the Fab Five, then get to see some beautiful wing stretches and babies briefly sitting all the way upright before toppling over from the effort.
Things You Don't Expect to See
I won't share the terribly-lit, moderately-focused photos of this event unfolding, but while I had read about fecal-sac removal from the nest, today gave me an front-row seat for the process.
I had noticed all week that one adult would spend a lot of time at the nest with its head down, below the rim of the nest, making jerking motions with its body. It was a curious posture and I had wondered if it was tearing apart bigger food at the nest.
Today's observations showed me the reality of crow parenting: after feeding, the parent bends low and nuzzles bottoms to encourage the young to defecate, putting the fecal sac in its mouth as it comes out. My photo series gave me a big eyeful of that process, ending with a very obvious baby bird anus. That is gonna stay with me for a while.
Tomorrow, I'll post a little summary of this Nest Watch, so stay tuned!