Our Texas Pond is Springing Into Action
Little did I know that last week would be my crash-course in pond ecosystems, with endless rounds of research to cobble together the story of my Pond Awakening.
Last winter and spring, we completed the second phase of our pond installation in our housemate's Austin yard – a huge pond, dug into the footprint of half his old house.
I was so excited to return and see what a year of establishment would do for the ecosystem, but I had not braced myself for the organically-generated Matrix-style download that I would receive when the action started. My knowledge of birds and orca have grown strong over time, but herps and fish have not been on my radar until now.
Chorus Guys & Gals
Two weeks ago, after big, vibrant Texas thunderstorms, it began…the cacophony of the chorus from the pond. It seemed the pond crew had finally decided it was spring.
Pond Gazing
At the beginning of the week, my partner was engaged in gazing into the pond, as pond lovers are wont to do. He noticed teeeeeny-tiny stick-like things that looked alive, nibbling on the algae along the edge of the pond. He brought me outside and with the magic of iPhone camera zoom, it became apparent that they were 1/4″ to 1/2″ wee fishies.
This was welcome news, as we had been wondering whether the fish we introduced to the pond last year had managed to start a new generation…especially in light of Bennu The Resident Great Blue Heron's proclivity to swing by our place for take-out sushi.
I got to work identifying whether these fries are goldfish or koi. Goldfish are usually black or gray when hatched and get their color later, which aligns with what we've observed with our fish in Washington. Koi apparently have color from the get-go, though there are black ones that usually get culled by breeders. Short of distinguishing whiskers (or barbells, as they are sometimes called) on 1/2″ fish underwater, it seemed unlikely that I would get a successful ID at this point. C'est la vie.
Toads Fancy Black Pearl Necklaces
As the week progressed, my partner once again brought me outside to show me a new curiosity…ropes of black eggs hanging in the water.
Once again, I hit the research hard. Photo references and a little Googling revealed that toads produce these magnificent creations! Now I knew what our chorus line had been doing all week.
Wild Thangs
The next morning, we observed oddly frisky behavior from the koi while we sipped our coffee on the porch – they were swimming up onto the shallow shelf where we had seen the toad egg strings and they were flopping around and splashing. Our first thought was, "There goes the toad eggs," followed by, "dude, don't jump OUT!"
Needless to say – after coffee – we wandered over to see how the toad eggs faired. All of the long strings that had been floating in the water along the shelf were gone, but I was happy to see that our toad parents were not newbies to this game. They had tucked strings all around the planters, between the plant and the wall corner, keeping hundreds of their defenseless eggs out of reach of the baby-gobbling horde.
As I was crouched over the pond like an eager grade-schooler, I noticed new…blobs…all around the outside of the planters, spread out in the algae and plant roots.
You guessed it…more research.
Roe on the Menu
I spent my morning and afternoon researching on the porch. All the pieces came together to make me pretty certain that the koi friskiness we observed was spawning, and my mystery "blobs" were white eggs spread out all around the shallows, clinging to the organic matter.
Much to my horror – just as I unlocked the knowledge of what I was seeing – I looked up to see the koi nosing around the very same planters where they had laid the eggs and frantically Googled, "Do koi eat their own eggs?"
In fact, they do – because everyone loves to snack on some roe. Ah, nature…there's never a dull moment.
Introductions
In the next 24 hours, my amphibian friends came out to say hello, and I was able to observe, photograph and identify three species.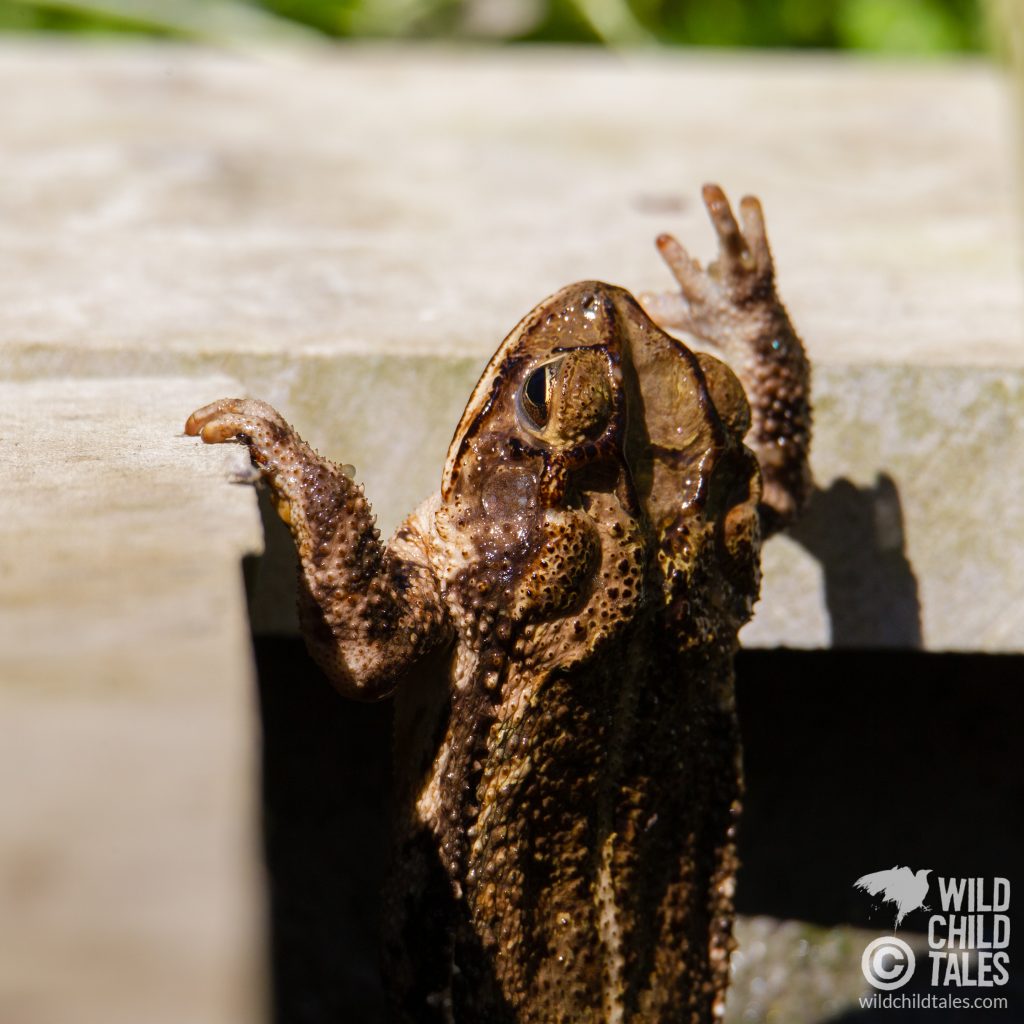 Inquiring Minds!
With species identified, my next question was, "How long until things hatch?"
Gulf Coast toad eggs hatch in 24-48 hours into tadpoles, and koi eggs hatch in 3-4 days. Given how fast the hundreds of thousands of eggs were being snapped up by hungry opportunists, these short turnaround times made perfect sense.
So what does any excited kid do? Of course I gathered some eggs of each type in a glass and created my own observation room for the countdown.
Wash-Rinse-Repeat
I really thought my brain might melt from the amount of things I had learned in such a short time. Fortunately, nature wanted to reenforce my newfound knowledge with continued observation.
For 3 days, I watched koi spawn in the morning and eat their own creations in the afternoon. The volume of foamy splooge in the pond was pretty overwhelming – our female koi were probably laying half a million eggs each, with the fellas ready to lay the sauce on everything they found.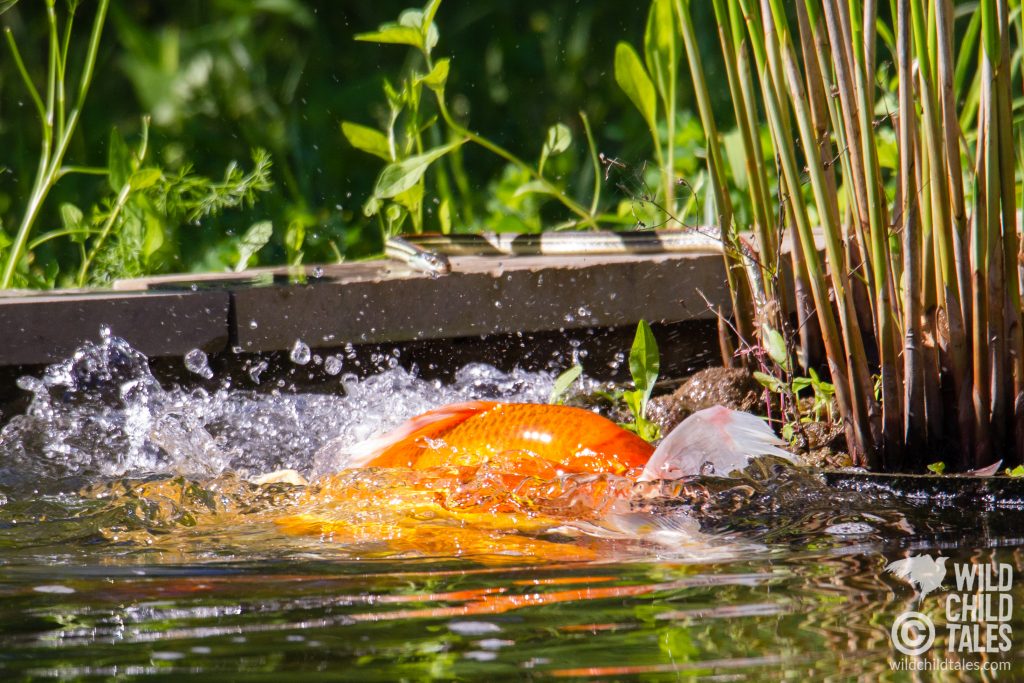 I have to tell you, I'm grateful to have missed my calling as a lady koi. The mating process looks a lot like pinball, with the males aggressively chasing her around the pond and slamming her into walls to try to get her to expel her eggs. It's morbidly fascinating to watch.
And speaking of mortality: for all the life springing up around the pond, these daily koi sex-derbies take their toll too. I was very sad to see one of our big white koi had beached herself in one of the planters and died with thousands of expelled eggs all around her. Maybe I'm not a real naturalist yet, because I couldn't bring myself to take a picture of her for documentation-sake.
Toadally Awesome
Koi sadness aside, the week was filled to the brim with toad love!
The eggs I had gathered began to hatch a day later and I awoke to 1/4″ wiggly tadpoles that were impossible to photograph well…where's that macro lens when you need it? However, I spent an embarrassing amount of time staring at them through a magnifying glass and telling them how big and strong they would become.
The koi weren't the only ones on a multi-day marathon. The Gulf Coast Toads offered more strings of their next generation, this time laid in the designated Frog Pond that doesn't have any fish, but is already teeming with tadpoles of various sizes that will also enjoy freshly-prepared snacks.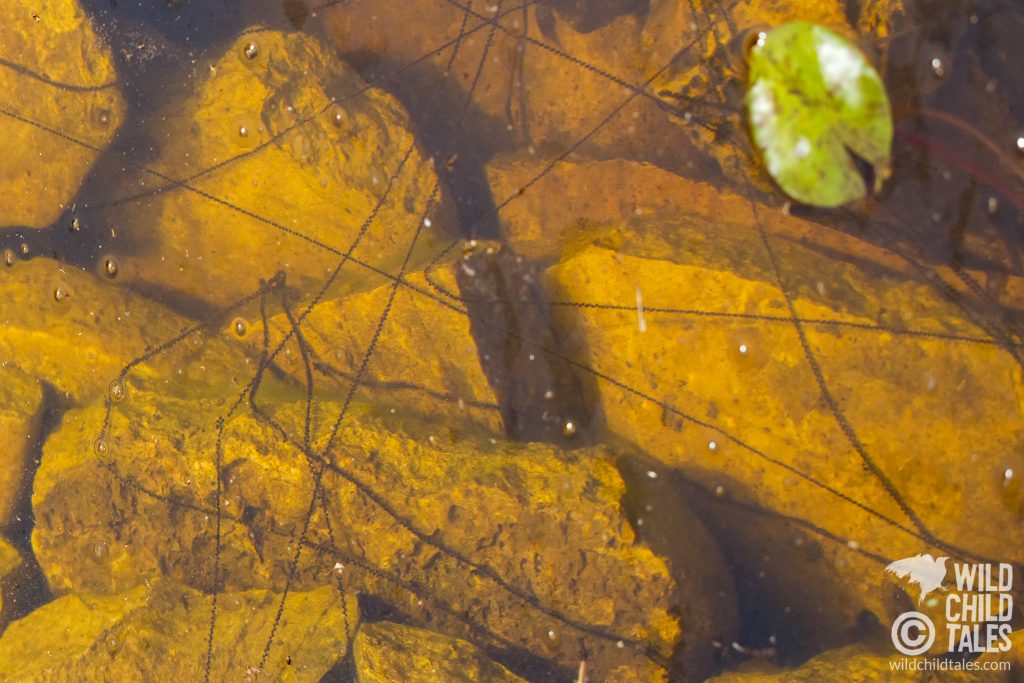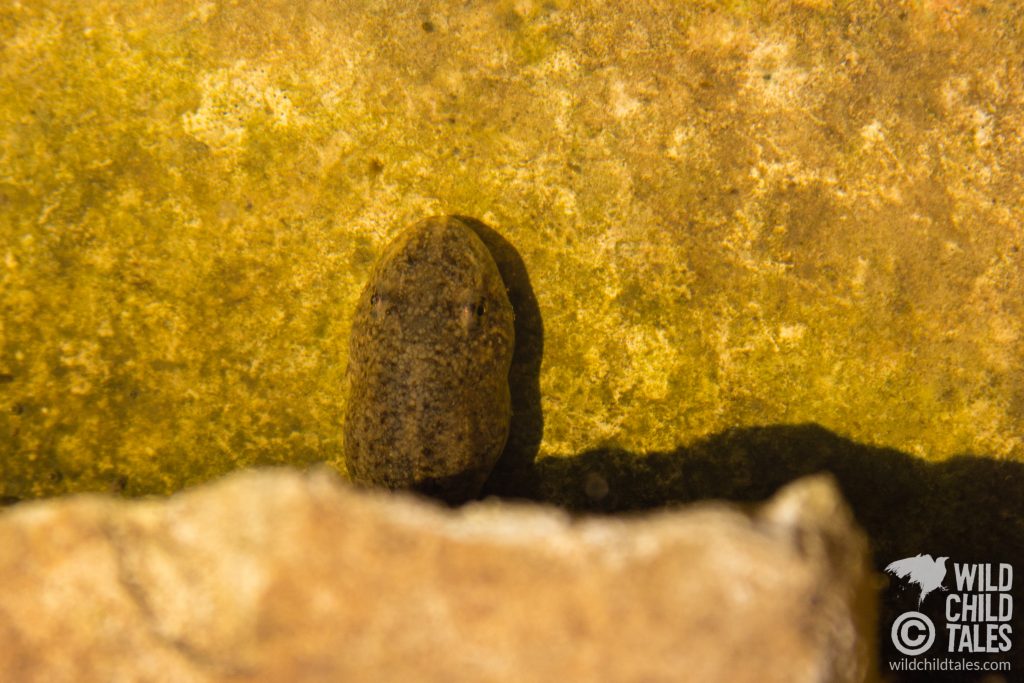 As my partner was working in a low spot next to the pond, he found a teeny 1″ toad on a rock, making me wonder how fast these guys grow and when this little one joined the family. Research Fatigue is mighty right now, so I haven't bothered to actually figure that out yet.
Mark the Calendar for Pond Week
Ironically, this was a dead-quiet week for bird action. I assume everyone is busy furtively feeding their mates on the nest and trying not to draw undue notice to their helpless charges.
That left my attention focused exclusively on the pond and it was incredible. Multiple times a day, I ran inside to get my partner and show him things. I, too, became a Pond Gazer and took great delight in spotting each new milestone.
The week was a perfect example of how I became an amateur naturalist…watching the marvels of nature unfold in real time as I researched all my questions left me feeling excited, eager and deeply satisfied with a week well-spent. Three cheers for Pond Week!