Sometimes Bald Eagles demand that you take a break!
This weekend was our first one one in Washington since January, filled with the joy of homecomings and the sobering reality of All The Things that needed to be done to get in gear for spring. I was intentionally keeping my camera somewhat out of reach to facilitate that progress, but as always, Nature had different plans.
Such a Ruckus
So while working on some landscape clean-up, my partner began yelling for me that there were eagles circling the wetlands across from our house. He grabbed my camera as I scrambled to find shoes, and we met in the cul-de-sac to quite the cacophony of eagle shrieks.
If you haven't heard it, the call of bald eagles is not what you would expect. Television and movies have conditioned us to think of eagles when we hear the fierce shriek of a red-tailed hawk's cry. Don't believe me? Hear for yourself…
This Isn't the First Time
Last year, we had a raven nest in the woods above the wetlands, and there was an eagle pair who must not have been nesting that year, because while all the other eagles were committed to non-stop grocery and security duty, these two would swing by daily to see whether raven snacks were on the menu. Needless to say, the noise that ensued was immense, and we watched it unfold in snatched glimpses with bated breath.
So when I saw this pair of eagles, I had a couple of thoughts:
First, there is no way breeding eagles would both be away from the nest right now, with babies likely still too young to even keep themselves warm, so that meant that once again, we were seeing a pair that probably weren't breeding.
Second, I wasn't hearing ravens going insane, so perhaps the ravens decided to relocate their nest this year. That thought makes me sad because the baby-screams of hungry ravens make me smile, but at the same time I can hardly blame them.
I caught a few terrible shots of one of the eagles in the air, but we decided to walk down to the neighboring Johnson Farm'a wetland trail, where last summer we saw (sans camera) a raven-eagle battle play out. Maybe the eagles would be visible from there.
We booked it the quarter mile through fields to get to the trail. My camera was still set up for whales, so I had the 1.4x extender, collar, and monopod on it, adding another pound or so of weight to an already hefty load. Our efforts were rewarded though, with one eagle in the trees and its mate joining it soon after.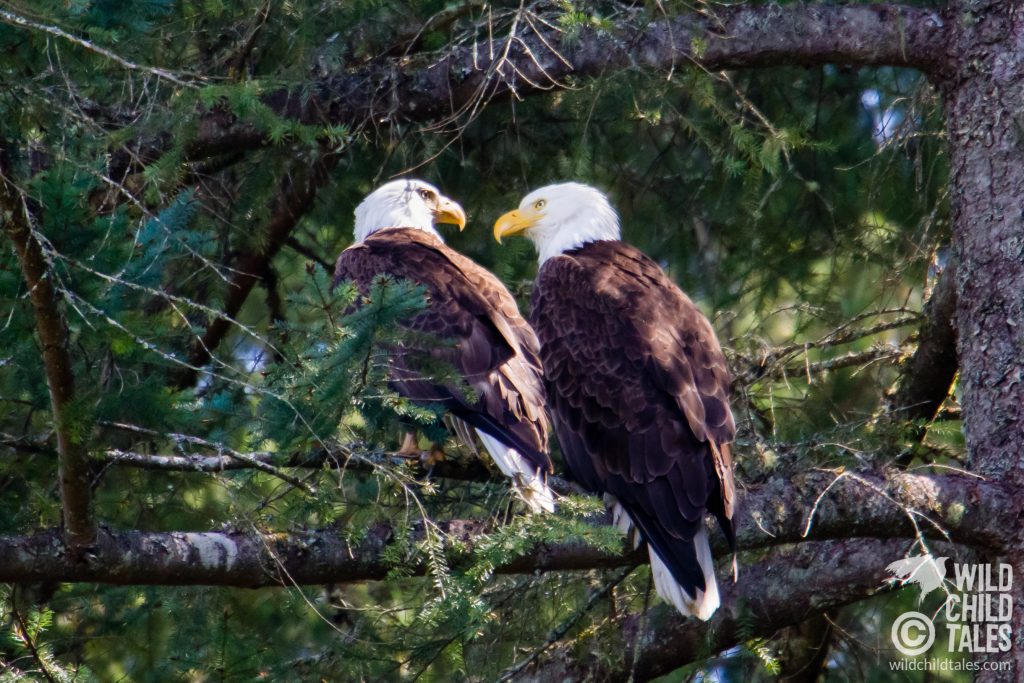 We sat down on the bench next to the wetlands and watched this pair as they spent some quality time together. I found myself wondering if they would try to make this their new territory – especially if the ravens have moved on, and whether this was the same pair we saw last year who was so focused on this area. I sure hope so, on both counts!
The male is on the left, female on the right in these images. There are two pretty easy ways to tell when they are together – relative size…she is always about 1/3 bigger in body mass, and beak size…she often has a thicker beak that looks taller and more substantial when they are in profile.
There's Always One
While the eagles and the watchers were content to enjoy the moment, there were a pair of Steller's Jays who were absolutely not having any of it. While both eagles were there, they just screamed from a distant branch, but as soon as the male left, one of the jays took to dive-bombing the female about every 90 seconds.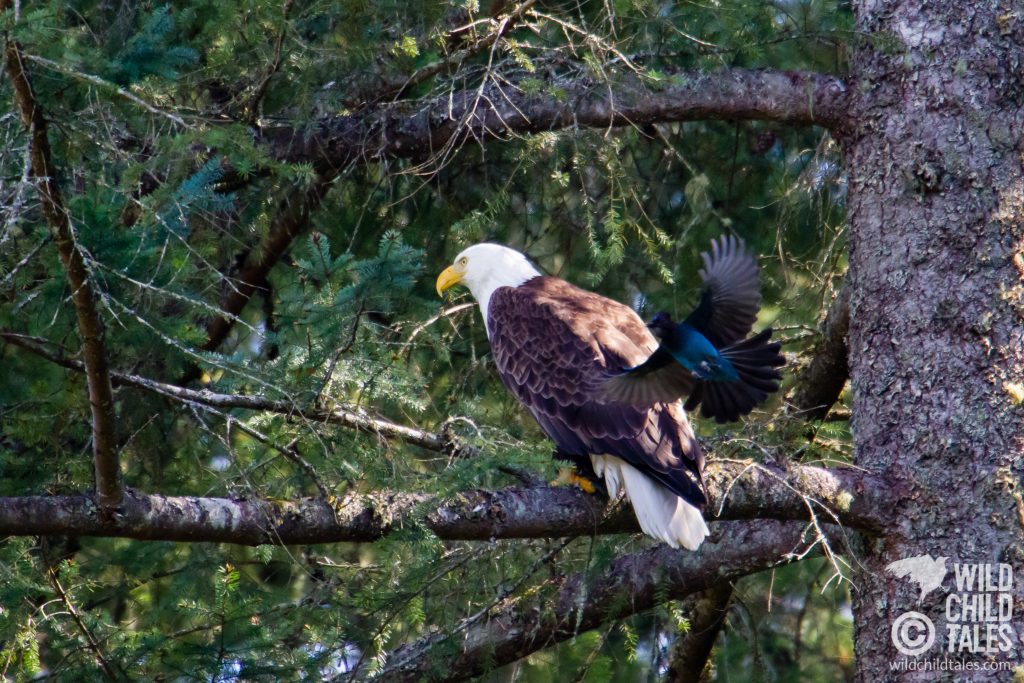 It didn't take long before she decided it was also time to move on, ending our impromptu naturalist adventure and sending us back to cleaning, unpacking and gardening!